Winter family portraits are so much fun! Even though you might be tempted to schedule your family photos for summer in the PNW, there are so many reasons a family photoshoot in winter is a good idea. And have I mentioned how much I love the snow?
If you are worried about what to wear and how to prepare for your family portraits, this guide is for you!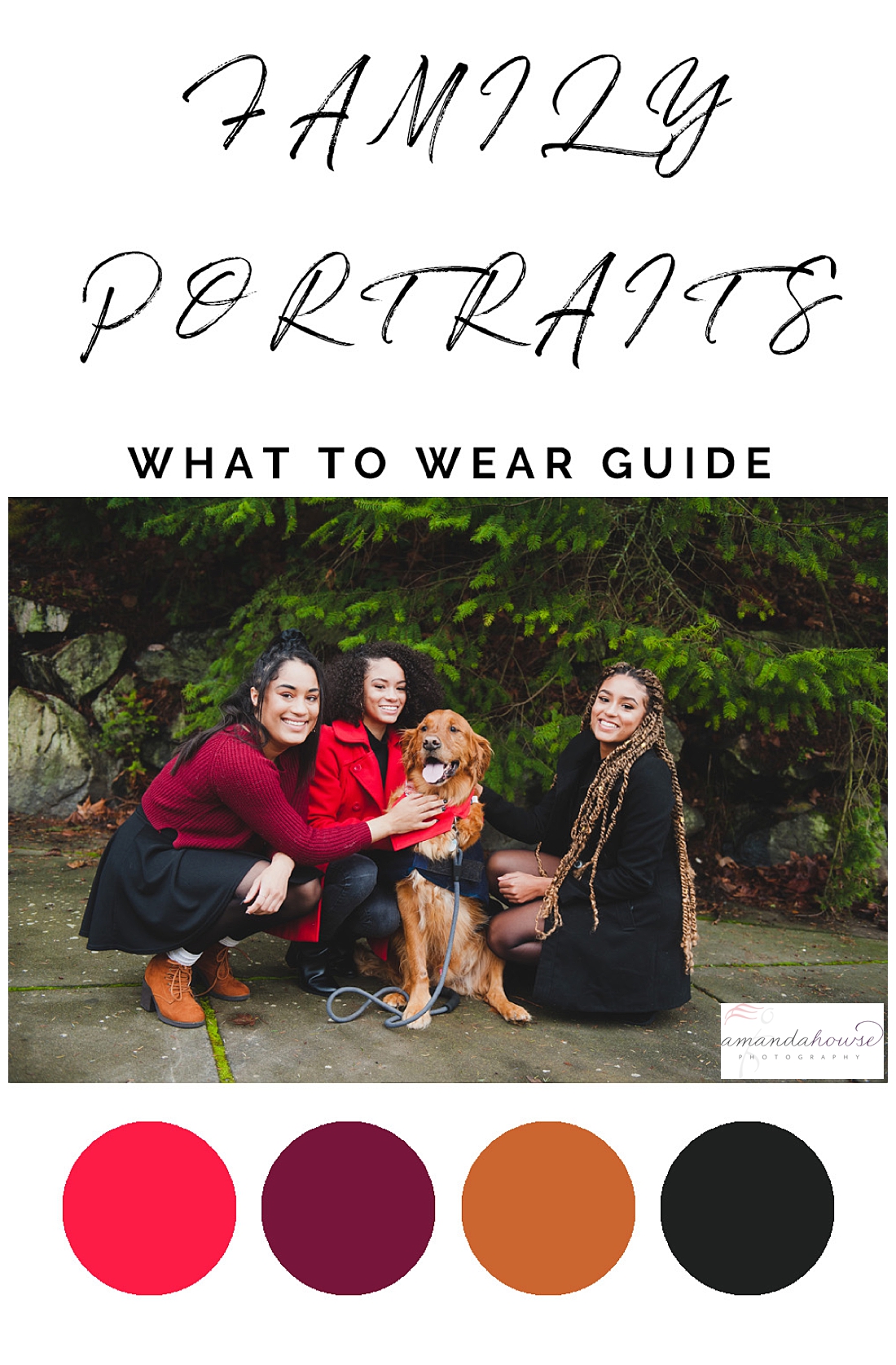 Why You Should Schedule a Family Photoshoot
Your family portraits capture this time in your lives. A lot of people want to commemorate milestones and remember each stage of their growing family. If you have kids, you already know how fast they grow up! Scheduling regular photoshoots will help you remember all the different times in your lives. And you can use the photos for Christmas cards, especially if they are winter-themed portraits.
Planning Your Outfits
One of the main reasons families hesitate to book a winter portrait session is because of the PNW weather. It can be dark and overcast throughout winter in the PNW. Wearing bright, bold colors will help you stand out against the grey backdrop.
I love the contrast of the grey sky with jewel tones. Emerald green, ruby red, and sapphire blue all look gorgeous in the winter. You can balance bold tones with black and grey colors in your outfit as well.
Head to Pinterest
I am always pinning outfit ideas for portrait sessions over on Pinterest. Take a peek here and start putting together some ideas! You don't have to wear matching outfits, but choosing complementary colors will help you put together a cohesive look. I have plenty of different color palettes to get you started on Pinterest.
Selecting a color palette ensures everyone looks good together. It gives a theme to the portraits without feeling matchy-matchy. And jewel tones are always flattering on camera.
Dress in Layers
Since it is cold in the winter, you want to have layers. Nice jackets, tights, and boots can keep you warm while still looking dressy. You want to make sure you are comfortable throughout your photo shoot, especially if it is outdoors.
If we plan a walk along the waterfront or a hiking trail for your photoshoot, you especially want to make sure you are bundled up. Adding layers to your outfit helps you transition from outdoor portraits to portraits inside the studio. Both are great options for winter family portraits.
Book Your Glam Squad
In addition to picking out the best outfit for family portraits, you'll want to make sure you cut and/or color your hair the week before. This ensures you look your best for portraits. Who doesn't love the feeling of a fresh haircut?
You may also consider professional makeup for your portraits. Professional makeup artists know which products look best on camera (yes, there is a difference!). I am all about capturing timeless photos that you cherish for years to come. Looking and feeling your best on the day of your portrait session will boost your confidence and translate on camera.
Getting Comfortable Posing
I am there to direct you when it comes to posing! I'll ask you questions and get to know you throughout the shoot, which will help when it comes to posing. My years of experience ensure that your photos look natural and comfortable. No awkward photos or stiff poses here. Depending on who you include your family portraits, there are special considerations to keep in mind.
If you have a large family or younger children, I usually recommend adding extra time to your session in case of any hiccups. Having snacks on hand can also help keep the kids happy! With kids, we can definitely do classic family poses. In addition, I love to mix it up with candid shots that keep everyone entertained. We can capture you walking through the snow, hugging, and having fun together as a family.
Picking a Location
There are plenty of locations to choose from for a family portrait session in the PNW. Christmas tree farms are always a good idea for winter family portraits! They are festive and well-decorated for the season. I just love all the evergreen trees.
We are so lucky to live in an area with hiking trails, lush forests, and breathtaking mountain views. Let's take advantage of that for your portrait session. I have a few favorite spots, but I also love scouting out new locations.
Incorporating Props
What could be more fun than hot cocoa on a winter's day? From picking out a Christmas tree to bringing along Starbucks cups of your favorite beverages, props can bring your portrait session up a notch. It also makes the photos more fun for holiday cards!
Scheduling your Winter Family Portraits
You'll want to schedule your portraits a few months in advance. This gives you time to shop for outfits and schedule any hair/nail appointments. The last thing you want to do is feel rushed when preparing for a portrait session!
Let's Connect!
Are you ready to get a winter family portrait session on the books? It's easy to reach out on my website. You can also email me at [email protected], or call/text me at 530-412-0730.