Washington Beach Elopement
Kaitlyn and Justin planned a Washington beach elopement when life was still normal, but their intimate wedding is the best inspiration for couples now planning a wedding amidst a pandemic. COVID-19 has changed the wedding industry and I think we will be seeing more elopements.
A beach ceremony is a gorgeous option for an intimate outdoor elopement. When Kaitlyn and Justin asked if I would be up for a Ruby Beach elopement near the ocean, of course I said yes! Anyone who knows me knows that I love Twilight, and this was the perfect excuse to head out to the Olympic Peninsula. I even brought my hubby along for the long drive.
Vows by the Tree of Life
We watched Kaitlyn and Justin say "I do" under the Tree of Life. I had no idea this stunning tree even existed, but it was an ah-mazing backdrop for their Washington beach elopement! The beach was gorgeous, and even though this was a March elopement the sun was out in full force. They toasted to their union mid-ceremony with fun drinks and had champagne on hand for after the ceremony. Such a perfect day for these two.
Spring Elopement Style
Of course, spring in the PNW is not the warmest. Kaitlyn and her maid of honor rocked black leather jackets for the ceremony. The handsome groom kept his aviator sunglasses on while the sun was shining. These two stayed true to their unique style.
Kaitlyn made her own bouquet, which was an ah-mazing arrangement with light and dark florals and accents of greenery. She wore rustic cowboy boots for the ceremony, which complemented her boho dress and moody floral bouquet. And I love that she kicked her boots off after the ceremony for bride and groom portraits on the beach.
Afternoon Light
Tall Washington trees surrounded the beach, and I just love how the sunlight peeked through the leaves. We took full advantage of golden hour in the woods. These two poured champagne and adventured through the forest while I captured those sweet, candid moments.
I am so grateful to Kaitlyn and Justin for choosing me to capture their gorgeous Tree of Life beach elopement. Scroll through for more elopement inspiration and how to schedule a consultation with me!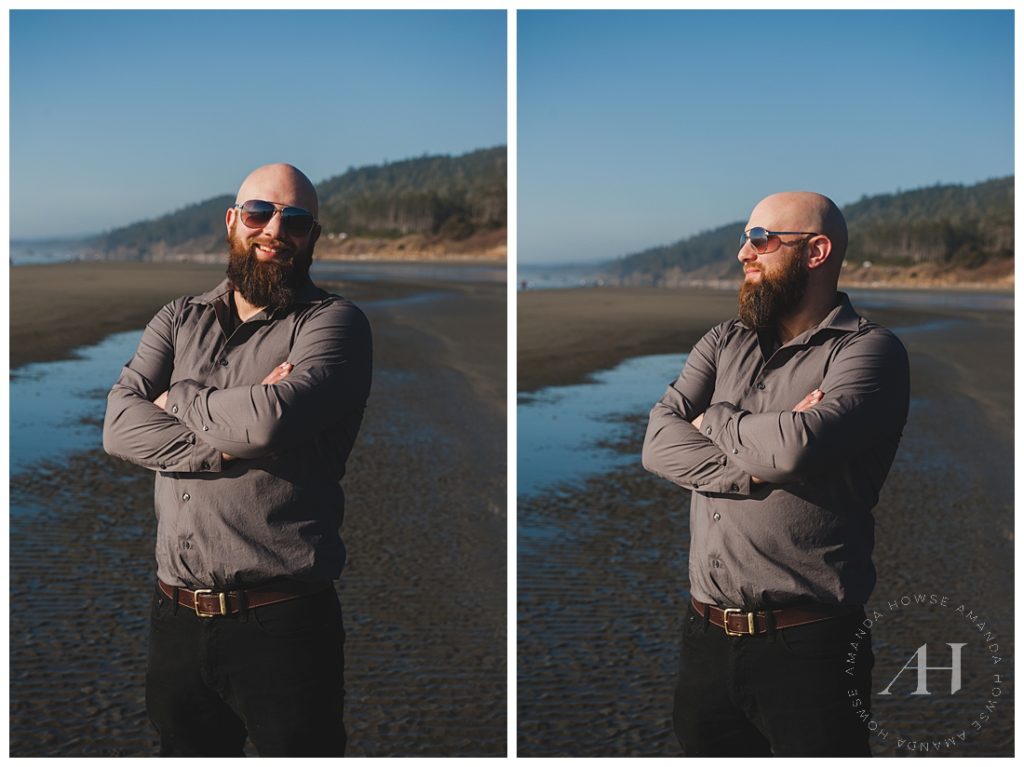 Let's Connect
I can't wait to hear about your plans for a Washington beach elopement! It is super easy to reach out on my website. You can also email me at [email protected], or call/text me at 530-412-0730. I would love to be a part of your wedding day.