Fall Family Portraits
September through November is my favorite time of year to shoot in the PNW, and these fall family portraits in Tacoma show all the reasons why. I simply love the fall colors, and my studio downtown is close to the always gorgeous Wright Park. The leaves change to vibrant gold and red hues, with some evergreen foliage to complement the fall colors perfectly.
This lovely family took full advantage of the beautiful autumn tones. They brought along their extended family for their Tacoma session. We had so much fun wandering around the park and capturing everybody in their element.
Portrait Combinations for Large Families
The Jill family arranged this session for themselves and invited the husband's parents, brother, sister-in-law, and adorable niece. It was so cool seeing them all interact, and the little ones kept each other laughing and smiling throughout the session.
With large family portraits, we can do all sorts of different combinations. We made sure to capture the grandkids with their grandparents, in addition to individual portraits for each family unit. And, of course, we got everybody together for portraits with the whole group.
Family portraits are an awesome way to document milestones, including new additions! You can see how your family grows over the years. And it's so important to capture your kids at each different age, as they change so much from year to year. I recommend annual portraits, but you can also book them for special occasions, or every few years.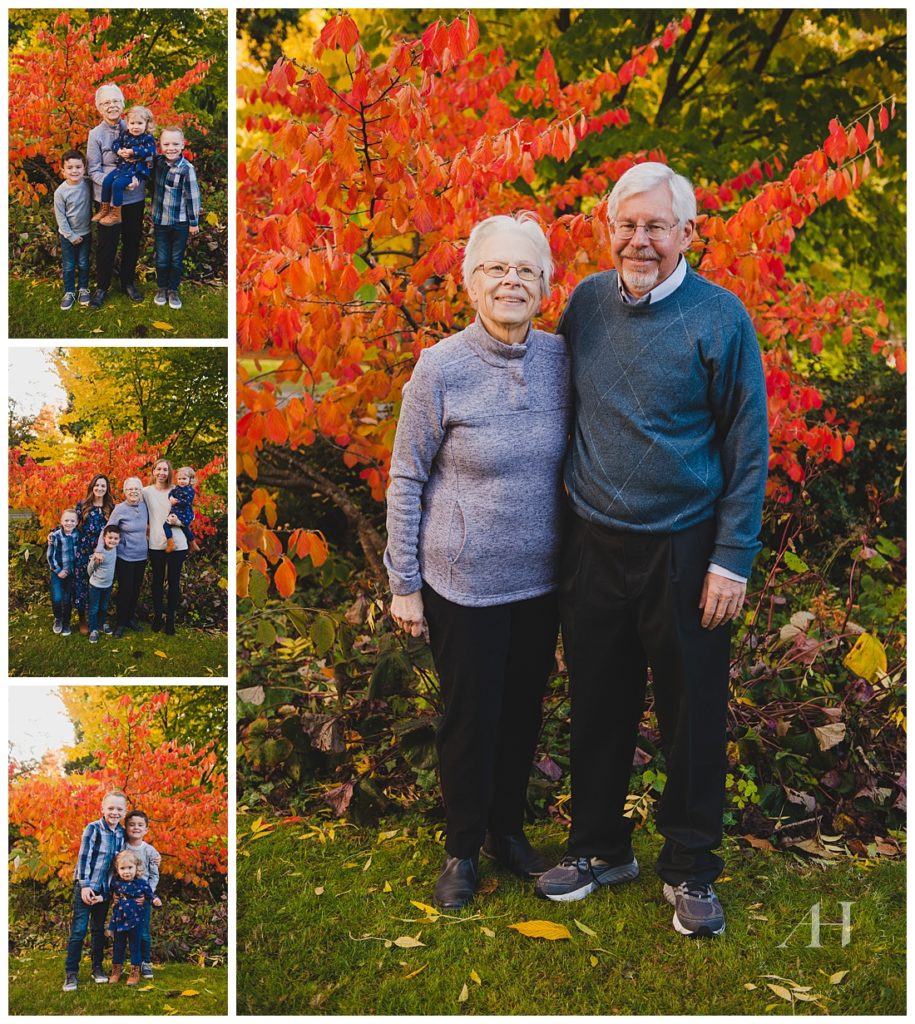 Coordinated Outfits for Family Portraits
Picking outfits for your family portrait session may feel overwhelming, but there's no reason to stress. I'm always adding new outfit ideas to my Pinterest, and I break down some of my favorite color palettes for winter on the blog here. Stay tuned for more blog tips on what to wear for summer and fall family portraits.
The Jill family took my advice and chose outfits from within the same color palette. This helps give your portraits a cohesive look, without everyone feeling matchy-matchy. The Jill family chose from navy, grey, ivory, and brown tones, with some wearing prints and other sticking to solid colors. Even the kids were sharply dressed, with cute brown leather boots on the youngest. Everyone looked wonderful together.
Posed and Candid Family Portraits
During every AHP family portrait session, we take a variety of photos. I help direct you with poses that feel natural and comfortable. We also take some time to capture candid portraits of you and your family. This means we walk around, laugh, and share stories, all while snapping cute portraits. This fun family was all smiles for their candid and posed family portraits.
Let's Connect
Interested in some fall family portraits in Tacoma? Let's connect! You can always reach out on my website. You can also email me at [email protected], or call/text me at 530-412-0730. I can't wait to hear from you.