Winter Wedding Portraits
Kaycee and Rob's winter wedding portraits were an absolute blast! I love that they chose me to capture their special day, even in the February cold!! They were troopers and didn't let the weather stop them from getting the cutest photos to commemorate their wedding day! 
February, Family, and Lots of Fun
Tacoma in February is gorgeous, but a little cold! So for Kaycee and Rob's session, we started inside at Studio253 getting shots of them and their family! Some of their family had flown in from Florida for the wedding, so we wanted to make sure we didn't accidentally freeze any of them during picture time! And not to worry, everyone made it to the ceremony happy and healthy!
We captured plenty of group shots inside and then moved outside using the colorful Opera Alley in downtown Tacoma for some fun backgrounds! They turned out SO good!! I loved Kaycee and Rob's family dynamics and it's always such a joy to shoot with a couple who isn't afraid of having a little fun during their wedding photos! Between the red heart balloon, awesome poses, and Rob's skull top hat, this session was a perfect way to showcase this AH-mazing couple's love!
Capturing Your Perfect Day
One of my favorite parts about shooting couples for their wedding and engagement is seeing how they celebrate! Their style, their colors, traditions, all of it. Each couple is different and I love seeing how this shines through in their photos. As a photographer, I want to ensure your photos (wedding or not) are true to you! My goal is to capture your perfect day, whatever that means to you! So if you want to wear white, wear it! Or if you want to wear a gorgeous emerald lace dress instead, like our lovely Kaycee did, wear that too! Because she looked GORG!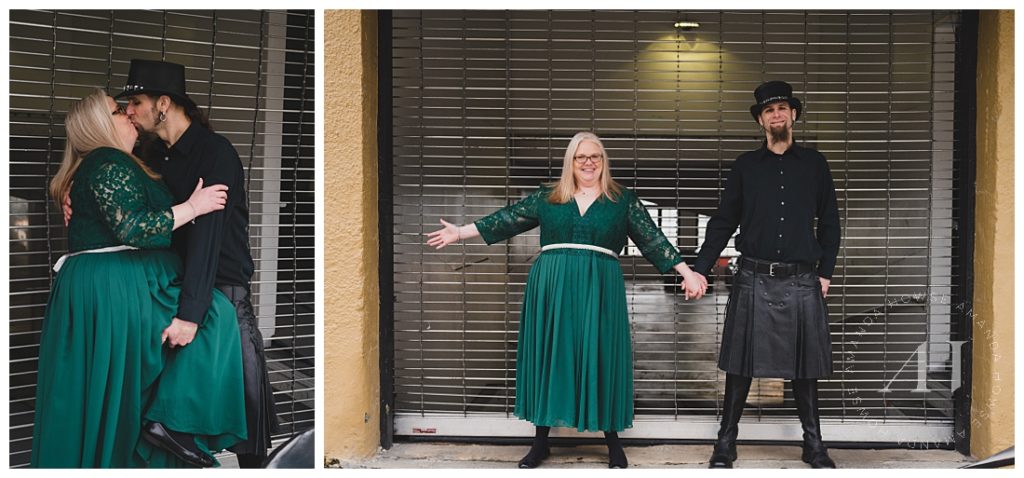 Pre-Wedding Photoshoot
After all the photos were taken, Kaycee and Rob headed off to the courthouse to make it official!! I am so happy that they allowed me to celebrate their special day with them and their family. I always love a pre-wedding photoshoot. It is such a great way to commemorate your day, especially for an intimate wedding. I hope you all enjoy these photos as much as I do! Most importantly, congratulations to these fun newlyweds!! 
Let's Connect!
Whether you are planning a big celebration or an intimate affair with close family and friends, I would love to photograph your wedding day! I want to make sure these memories last for years to come! To get more information about my wedding packages, you can contact me on my website, or send me an email ([email protected]). I am also available by call or text at 530-412-0730. I can't wait to capture your special day!