These fall family portraits in Tacoma are a special treat, and I am so excited to share them. The Gregg Home Group offered free portraits with AHP to their homebuyers. We had so much fun setting up these personalized portraits for Gregg Homes and the ah-mazing families they work with. Elise Gregg, the owner of Gregg Home Group, is great at styling. She brought the set-up at Wild Hearts Farm to life.
Wild Hearts Farm Family Portraits
Wild Hearts Farm is one of the best locations for family portraits in Washington. It's a private farm that is available for professional photographers to use, and there are so many different settings and backdrops to enjoy. The Glasshouse at the farm is absolutely gorgeous, and it was the perfect setting for these fall family portraits.
The Glasshouse
The Glasshouse at Wild Hearts Farm has a rustic wood chip floor and stunning chandelier. The walls are painted white, with flowy white curtains and a sheer roof for tons of natural light. Frosted Christmas trees in the corner, with reindeer decorations and lanterns, made the Glasshouse feel ready for the holidays! Adding a fuzzy throw pillow and blanket to the white bench in the Glasshouse made it feel oh-so-cozy. I simply love how the families snuggled up on the bench and posed for portraits.
What to Wear for Fall Family Portraits
These portrait sessions took place in late October, so the air was crisp! It can be overwhelming picking outfits for family portraits, but I am here to help. To get an idea of possible color palettes and outfit ideas, you can check out my blog post on what to wear and my Pinterest boards for inspiration.
I always recommend choosing colors that complement each other, rather than going for a matchy-matchy look. Everyone in your family can pick one or two of the colors from the palette you have selected, and your family portraits will have a nice and cohesive look. One family chose black, grey, and golden tones that looked so sweet with the rustic setting! Maroon, blush pink, grey, and black all go well together, too. Be sure to scroll through the portraits for some more inspiration!
Returning Clients
I am so grateful to Gregg Homes for choosing me to capture family portraits for their clients. I have also done business headshots for Elise Gregg and her team. It means so much to me when clients come back year after year to have different milestones captured.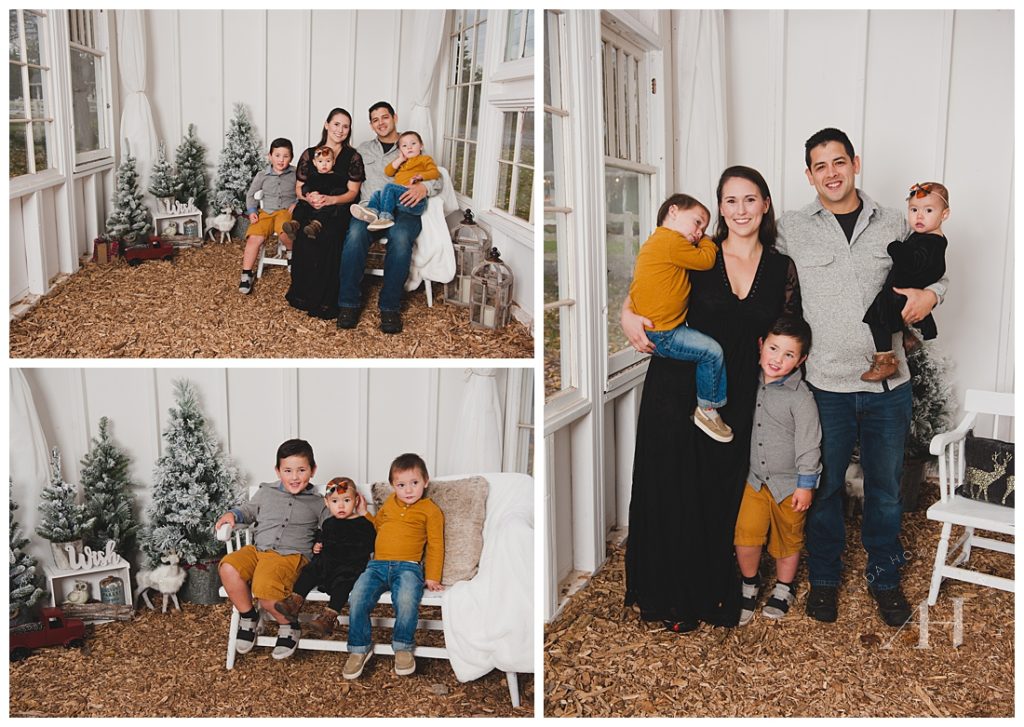 Let's Connect
Are you ready to schedule your fall family portraits in Tacoma? Reach out on my website! You can also email me at [email protected], or call/text me at 530-412-0730. I can't wait to hear from you.