This Aberdeen engagement portrait session with Jeff and Rosie was so much fun! I love getting the chance to capture moments for friends that have become like family. I have known Jeff's sister, Laura, for over a decade. Laura is an amazing esthetician at the Karelia Spa in Tacoma. I have been shooting photos for her entire family as long as I have known her! Every few years, I get to spend the 4th of July with them and have such an awesome time! I love that I get to watch their kids grow up and see their family grow!! Now I am so happy for Jeff's mom, Rose, because her middle child is finally happy and in love! Jeff and Rosie are getting married at their church in Aberdeen in October.
Mediterranean Vibes
Since the wedding will be in Aberdeen, we captured Jeff & Rosie's engagement photos in the city! There was an awesome run-down apartment building with so much character. It made us feel like we were in Italy! The pink walls and wrought iron had Mediterranean vibes. I love finding new spots to take engagement photos and this one was perfect!
Laid-back Engagement Portraits
Jeff and Rosie were so playful and kept each other laughing all afternoon. I love that they kept it casual for their outfits! Rosie looked so cute in a striped blouse and black pants, while Jeff wore a plaid button-up and jeans. The perfect casual engagement outfit inspiration! Rosie's engagement ring is gorgeous and we had to show that off! I want my couples to feel like themselves for their engagement photos. I love that Jeff picked Rosie up and spun her around a couple times. These two were just so cute!
October Wedding
I am especially excited for their October wedding, since I got married in October too! It's such a romantic time to get married! I love the fall colors and the crisp air. (I might even have to pick up a pumpkin spice latte in the morning!) These two are perfect for each other, and I can't wait to capture their wedding day.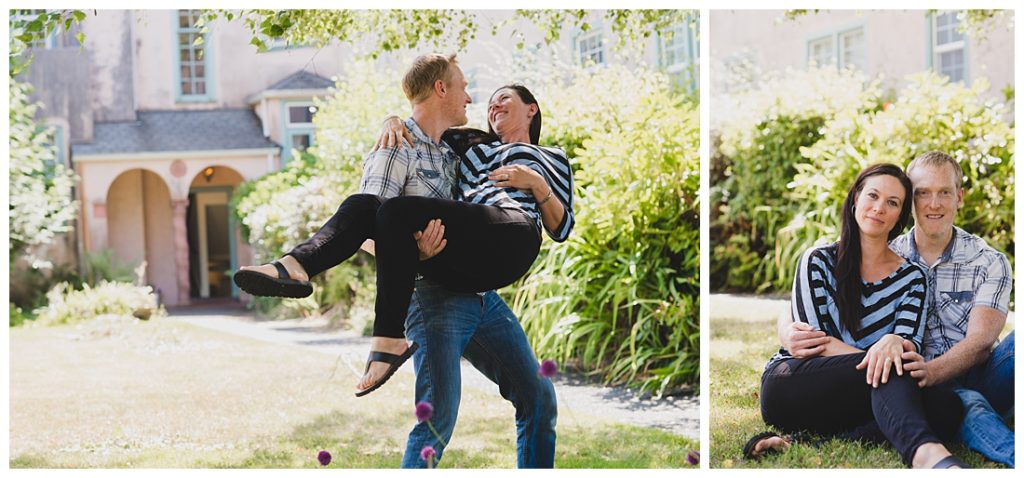 Aberdeen Engagement Portrait Sessions!
Capturing special moments in your life is what I am all about! If you're getting married in Aberdeen, let's capture your engagement with a portrait session in the city. We'll create ah-mazing portraits that you will cherish forever.
Let's connect!
Feel free to reach out to me anytime on my website. You can also email me at [email protected] or call/text 530-412-0730 to schedule your shoot!